Lori Johnston: MFA in her own Words
I waited for the Grady College's Master of Fine Arts in Narrative Media Writing program, and it was worth it.
I was enjoying a successful journalism career covering crime, celebrities, politics, business, and home design and architecture. I published freelance stories with The Atlanta Journal-Constitution, HGTV.com, American City Business Journals, Wall Street Journal and many others, following full-time work as a reporter for The Associated Press and an editor for magazines and websites.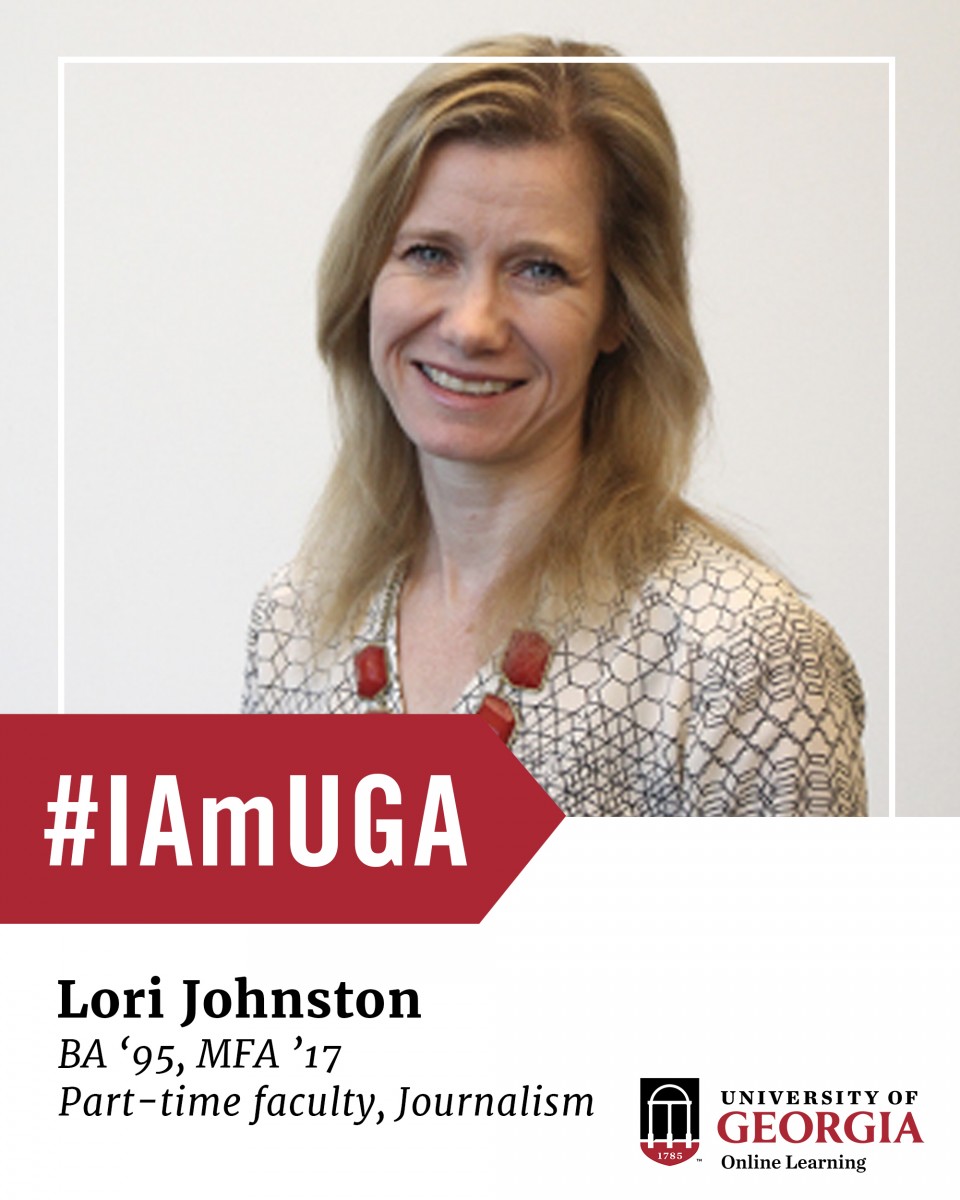 As I approached my career midpoint, about 20 years after I earned my bachelor's degree from Grady in 1995, I desired to move to the next level in my writing and deepen my ability to tell true stories. As with other times in my life, Grady played a key role in my career goals.
When I heard that Grady was launching an MFA program that was the first of its kind in a journalism school and directed by Valerie Boyd, associate professor and Charlayne Hunter-Gault Distinguished Writer in Residence, I decided almost immediately that I would be part of the first cohort, the class of 2017.
The program appealed to me for its low-residency format. I didn't have to shut down or take a break from my freelance writing. Each semester, I was paired with one of the faculty mentors, who are accomplished writers. They embraced the experience I bought to the program. They challenged me by providing rigorous feedback throughout the semester. I relished the monthly one-on-one discussions with my mentor and monthly meetings, sometimes virtually, sometimes in person, with peers to discuss books and our writing projects.
The two-year program was a huge investment in my future. It required me to carve out time — early mornings, nights and weekends — for reading, researching, reporting and writing. At the start of every semester, I immersed myself in the MFA residency in Athens — an invigorating, yet intense week of on-campus lectures, seminars, panel discussions and readings by faculty mentors and visiting writers, agents and editors. Our days and nights were filled with intimate and sometimes relentless discussions about the craft of writing with published authors and classmates, who ranged from their 20s to 60s.
The professional and personal relationships I formed exceeded my expectations. My peers from across the country challenged my thinking and gave me confidence to find my voice as a writer.
The MFA program gave me a way to "steal time," as faculty mentor John T. Edge told us, from our busy lives. For me, that was the life of mother, wife, journalist, entrepreneur, mentor and friend. I finished with three long-form narrative stories and a burgeoning book proposal, all focused on the intersection of faith, race and culture. Since earning my degree, my pieces on faith have been published in The Washington Post.
The program broadened my writing abilities, honed my leadership skills and gave me the academic qualifications, with a terminal degree, to pursue teaching full time on the collegiate level.
Recently, I joined fellow MFA graduates to read our work during a night of factual, creative storytelling in Athens. When I looked around the room, I saw the same array of ages, including several Grady undergraduate students. One of them told me the next day, "It was like art."
Hearing that was worth the wait.
Johnston is a part-time journalism instructor at Grady College and co-owner of Fast Copy News Service