Online Special Education program helps student find a mentor and passion
Online student Stevie Pierce decided to pursue her Bachelor of Science in Special Education, at the University of Georgia because of its highly-ranked and flexible online programs.
"UGA has always been known for helping students develop into teachers who are trained to teach with the most effective, up-to-date methods," Pierce said.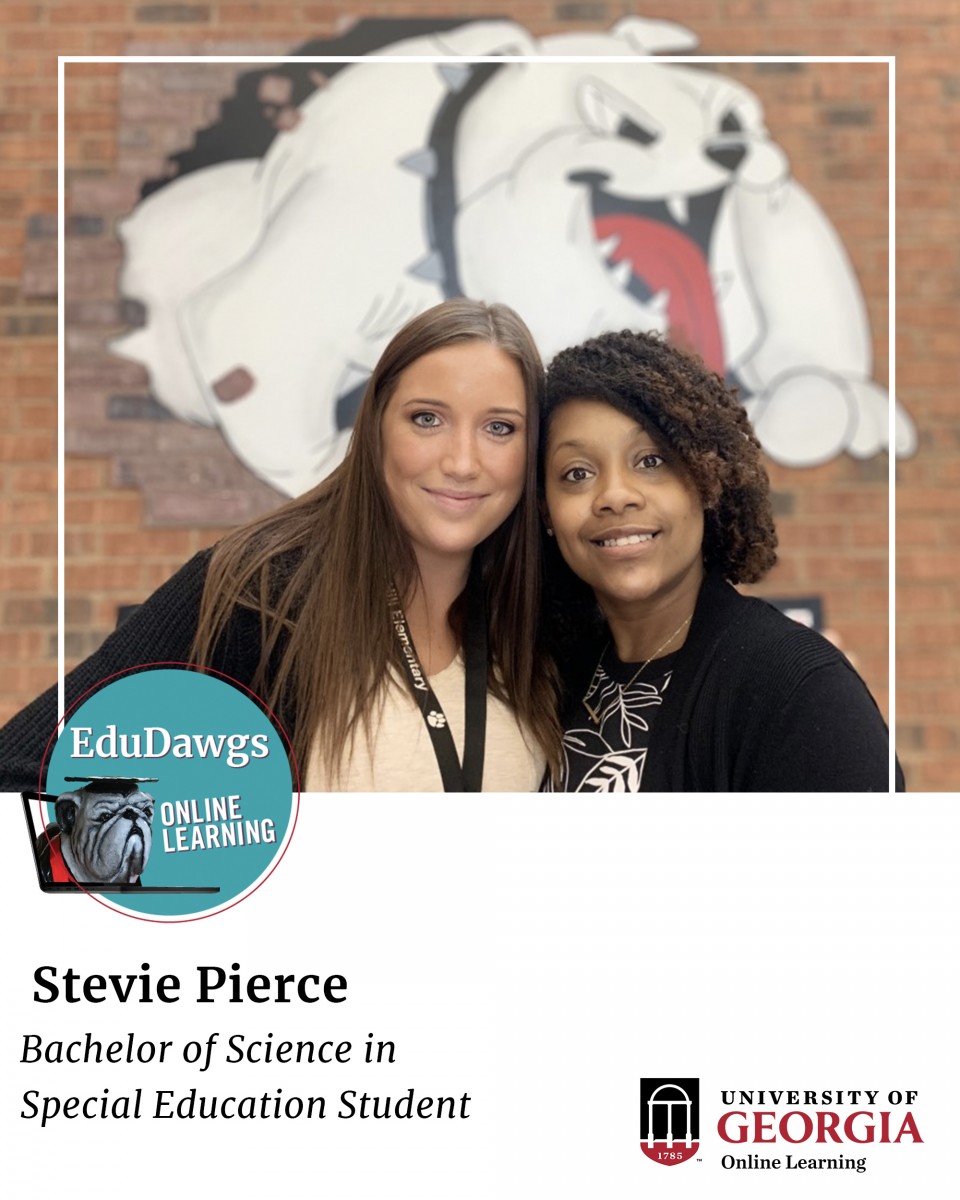 For the past four years, Pierce worked for Newton County Schools as a special education paraprofessional and embedded her practical experience at her home school, Oak Hill Elementary School. Pierce said Oak Hill is known for its diversity, academic excellence, advocacy for teachers and students, and for being a student-centered environment.
UGA's online Special Education program allowed Pierce to succeed academically and professionally in her career.
"It has allowed me to work full time in a school setting, where observations and training can take place," Pierce said. "I can also gain more experience and apply those experiences to current teaching methods."
As an online student, Pierce developed relationships with her teachers, including her mentor, Mrs. Scott—pictured with Pierce—and witnessed the day-to-day events that occur in a teacher's life. Pierce said Mrs. Scott went above and beyond in providing her with a great amount of knowledge before starting her career as a certified special education teacher.
The courses in this program follow the most up-to-date and effective teaching methods practiced today, and her professors give purpose to everything they teach.
Pierce said that online students need to have a passion for what they're studying.
"It is easy to get caught up in life and forget a quiz or assignment that is crucial to your grade," Pierce said. "You have to manage time wisely and be highly organized."
Upon completing her degree in special education, Pierce hopes to obtain a teaching job in Newton County Schools, while pursuing her MAT in Elementary Education. Pierce plans to help students reach their full potential by equipping herself with the knowledge to teach and practice research based methods.
Pierce hopes to pursue her Ed.S. in Education as well.
"I would love to teach a K-2 resource classroom while earning my master's degree, then move to general education and teach grades 3 or 4 with a focus on mathematics," Pierce said.