UGA Online Faculty, Puliyur MohanKumar, Honored as 2020 Meigs Professor
Five University of Georgia faculty members have been named Josiah Meigs Distinguished Teaching Professors, the university's highest recognition for excellence in instruction, and Puliyur MohanKumar, UGA online instructor, is one of the distinguished professors honored with this award.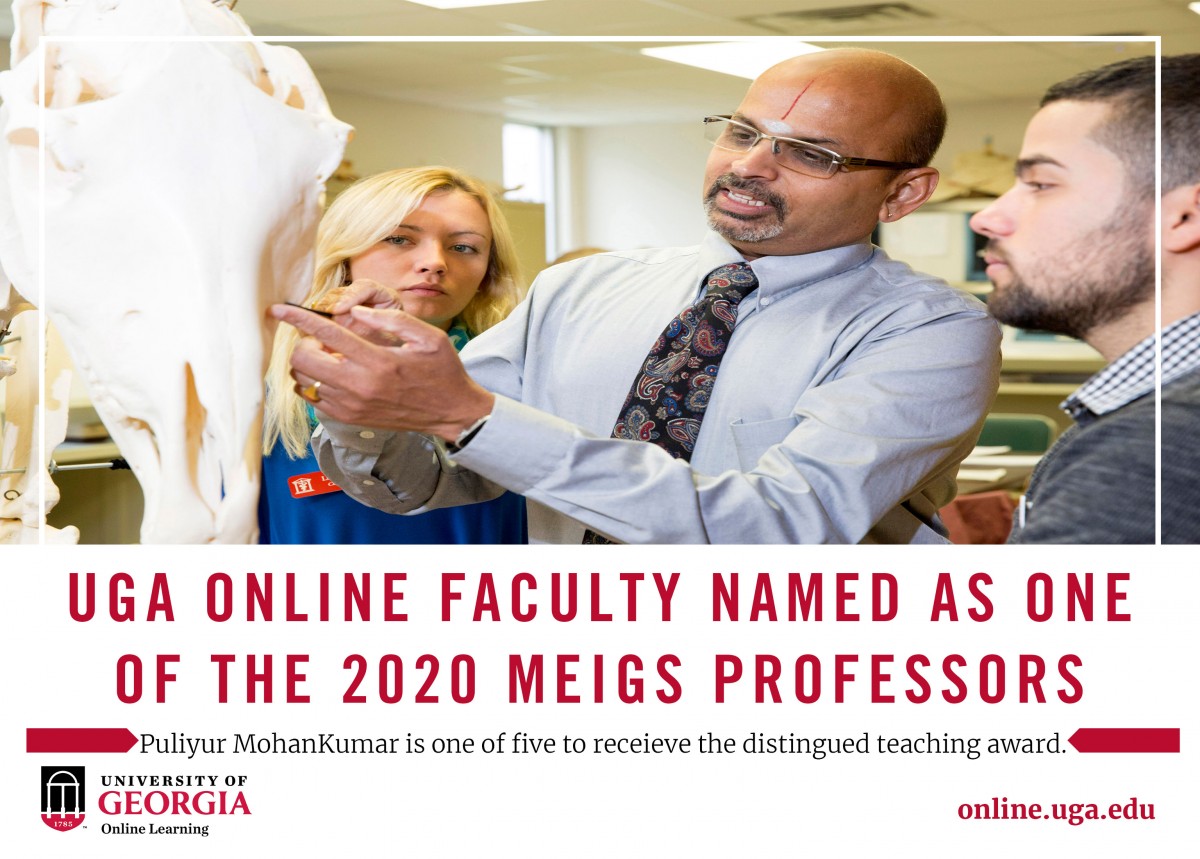 MohanKumar is a professor of veterinary biosciences and diagnostic imaging in the College of Veterinary Medicine, and he also will be teaching in UGA's new online M.S. in Comparative Biomedical Sciences.
"The 2020 Meigs Professors draw on their expertise as leading scholars and researchers to engage students with innovative instruction that helps them thrive, both during their time on campus and after graduation," said S. Jack Hu, the university's senior vice president for academic affairs and provost. "The University of Georgia is one of America's most highly regarded public universities thanks to outstanding faculty members such as these."
MohanKumar teaches an anatomy course for first-year veterinary students, which contains a large amount of time-consuming content, with encouragement and innovative approaches. To help students master and develop a passion for the work, he has authored four interactive books covering concepts of anatomy that are often difficult to envision.
He also has created over 200 videos of anatomy dissection that are available as free downloads, giving them a worldwide impact. MohanKumar takes his innovative teaching style a step further by offering first-year students voluntary clinical exposure at the Veterinary Teaching Hospital.
MohanKumar has received numerous awards, including the David Tyler Award for Innovations in Teaching, the Zoetis Distinguished Veterinary Teacher Award and the A.M. Mills Award for Outstanding Contributions to Veterinary Medicine.
He was also selected for the 2020 Creative Teaching Award, which recognizes UGA faculty for excellence in developing and implementing creative teaching that extends beyond the classroom.
In addition to his teaching efforts, MohanKumar has served as the principal investigator or co-PI on $10.4 million in grant funding from agencies including the National Institutes of Health, the National Science Foundation, and the U.S. Department of Agriculture.
View the full article on UGA Today.