How to Broaden the Spectrum of Music Education Across Cultures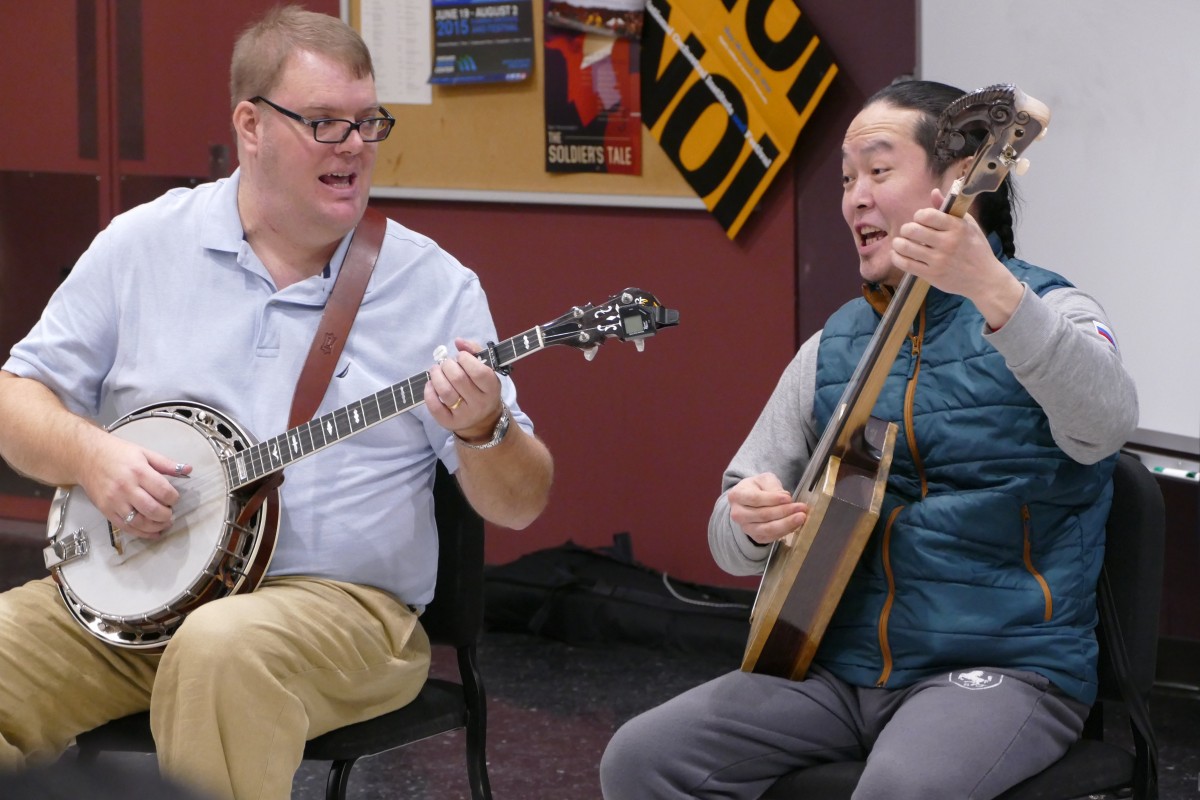 Cross-cultural connections and community outreach can profoundly impact the way music education is valued in society. Although each music educator has the capacity to make global connections from other countries to the local classroom, not all music educators are aware that these opportunities exist.
Damon Postle is a bluegrass musician and a PhD student studying with Dr. Skip Taylor at the University of Georgia. Postle never imagined he would be able to establish connections between bluegrass, Siberian folk music, and his doctoral studies. Connections began when he contacted the manager of the Tuvan folk band, Alash. After learning the band would soon be visiting the southern United States, Postle invited the band members to stay in his apartment.
Alash members accepted the invitation and not only got to know Postle personally, but they learned about his music education background and interest in cultural studies. After learning Postle's sincere interest in Tuvan culture and the music learning process, the Tuvan government invited Postle to Tuva, Siberia for a two-week stay.
While Postle was touring Siberian schools and immersing himself in Tuvan culture, he performed bluegrass music in the "2017 Xöömei in the Center of Asia Festival, Dedicated to the Memory of Kongar-ool Ondar." The festival was several days long and included thousands of people. During this time, Postle and colleagues from New Jersey formed a group called The Three Lost Americans and won the "Audience Favorite Award." Their performance was featured on Tuva national TV and gained recognition throughout the region.
Postle returned to the U.S. and immediately began organizing community outreach events to correspond with Alash's 2017 U.S. tour. With music faculty at the University of Georgia, Postle helped organize ethnomusicology and music education masterclasses. Dr. Skip Taylor, chair of music education at UGA, hosted the band and helped organize a school assembly at New High Shoals elementary school. Over 600 students were in attendance as well as the school system superintendent. Alash performed their music and educated the elementary students on Tuvan instruments and culture.
Although the band is still touring the United States, plans have been established for future collaborations. Postle will be visiting Tuva in 2018 while completing his dissertation on Tuvan music education. According to Dr. Taylor, the Alash ensemble will return in March where the intention is to share the music with 5 or 6 elementary schools with presentations in surrounding counties.
Postle wishes all music educators to know how to maximize opportunities for cross-cultural relationships. Strategies may include the following:
Take note of any touring artists from other countries or cultures. If you notice a musician or ensemble touring nearby, make connections by making phone calls or sending emails. Expressing genuine interest in an artist's music and culture could be a first step in future collaboration or performance projects.
Propose masterclasses, assemblies, or class visits with school officials and local university faculty.
Utilize trips or travel to establish connections. If you are planning a vacation in another country, explore music scenes and culture. Share music education ideas with musicians across cultures and share contact information for future correspondence. Keep in mind that correspondence can take place via Skype if not in person. Take note of anything you might learn and bring back to share with your students.
Damon Postle's work and broad experience in cross-cultural studies are excellent examples of the educational value of intercultural communication. Inspiring students to examine and share diverse musical cultures will benefit and expand their general knowledge as well as awaken individual creativity and artistry.
Written By: Johanna L. Royo, Online Master of Music Education Program