MBT student prepares for continued advancement in his career with master's degree
Peter Bagarella graduated from Columbus State University in 1996 with an Associate of Science in Computer Science. He then earned his Bachelor of Science in Computer Information Systems in 2002 and his Master of Business Administration in 2003 from Troy University.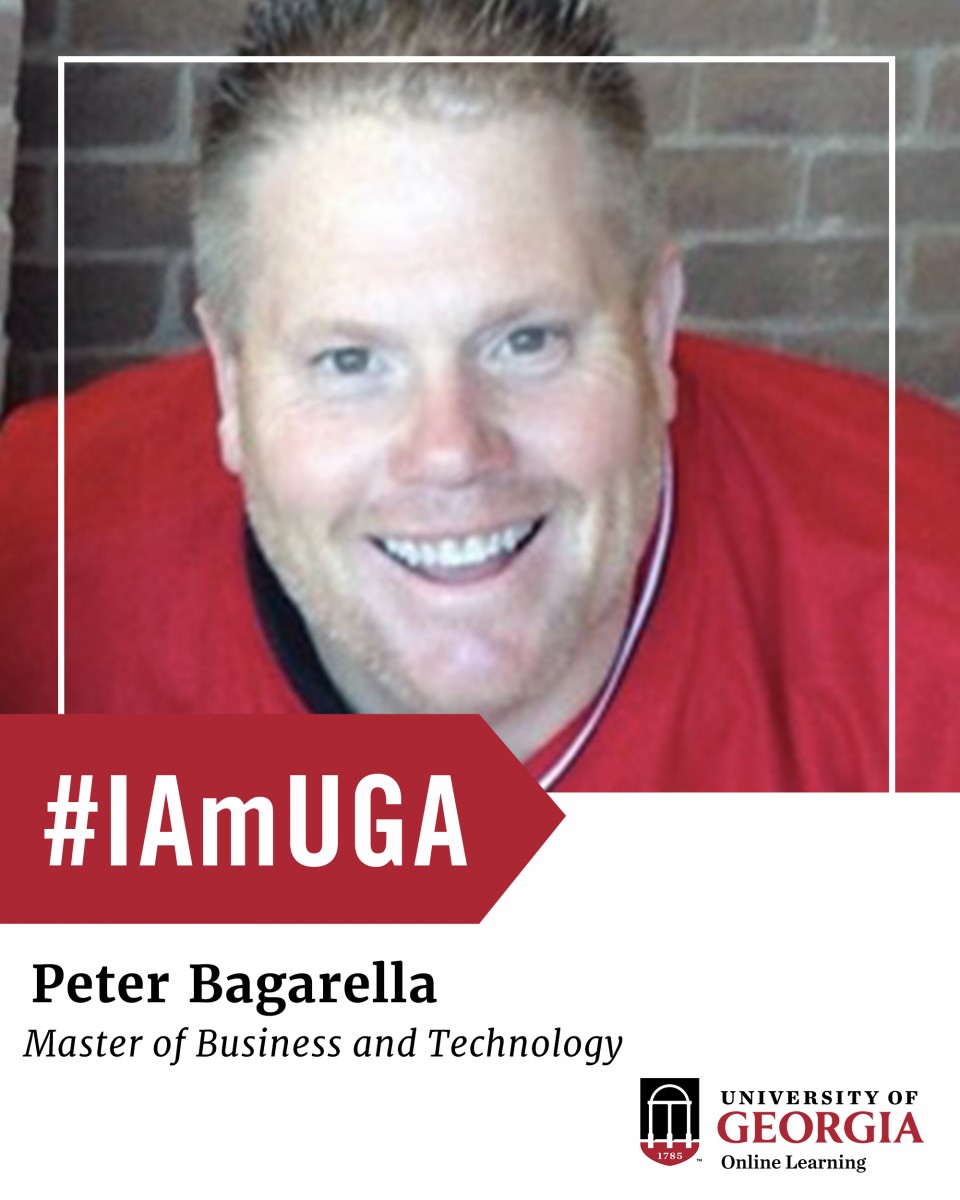 Bagarella currently works for TSYS Inc., a Global Payments company, as Associate Director for Application Systems and is a part-time Adjunct Instructor of Computer Information Systems at Chattahoochee Valley Community College. Bagarella is now pursuing a Master of Business and Technology online at the University of Georgia.
When deciding on where to continue his education Bagarella knew there was only one choice.
"Attending UGA has always been a dream of mine, so there was really no other choice for me when I needed to update my technical toolbox to stay relevant in my career field," Bagarella said. "UGA has a reputation for excellence in education and offers programs that are nationally recognized among the Top 10 online programs in the country. These were definitely factors I considered when choosing the Terry College of Business to obtain my second master's degree."
Bagarella decided an online degree would be best for him because it provided the opportunity to attend a nationally recognized program that focuses on building a bridge between the business and technical worlds of information technology.
Bagarella was also encouraged to apply to the MBT degree program by a co-worker who felt the program had prepared him for their company's transition to the cloud network from its existing mainframe infrastructure.
"The subject matters covered in the program, such as Client-Side Development (JavaScript & REACT), Server-Side Development (Java), Database Management (SQL), and Full Stack Development, along with the engagement and support of the instructors, have made this a very beneficial and interesting program," he said.
For working professionals and students interested in the program, Bagarella suggests having the discipline to commit to the coursework. "It is imperative that you communicate with your peers and instructors to build a network of knowledge," he said.
Bagarella hopes to use his degree for professional advancement in his career field, whether that's with his current employer or another organization.
"Professionally, I am more prepared for my company's transition to newer technology," he said. "Personally, I am more prepared to move into a full-time teaching career after retirement from the corporate world."
Bagarella plans to continue teaching as an adjunct instructor until he retires, then he hopes to transition to a full-time faculty role with a college or university. He's eager to share what he's learned with others.
"I plan on serving as an ambassador for the Terry College of Business and the Master of Business and Technology program and will seek opportunities to participate in discussions with incoming undergraduate or graduate students on ways to be successful in classroom or online education," he said.