Master of Arts (M.A.) in Journalism & Mass Communication - Emerging Media
Emerging Media students navigate the intersection of technology, design, and everything in between. The landscape is constantly changing and so our work is never done, our mission is never complete.
Overview
Gain the skills and credentials you need to stand out as a leader in digital media and design with the online Master of Arts in Journalism & Mass Communication, Emerging Media Degree's concentration focuses on interactive digital media and encompasses mobile app design, web development, graphic design, digital storytelling, product ideation, project management, user experience design and research and emerging technologies.
Offered through the University of Georgia's renowned Grady College, this 100% online master's degree program emphasizes digital media strategy and implementation. The course content explores advanced concepts of digital innovation and is designed to accommodate students from a variety of undergraduate backgrounds and professionals from a variety of industries.
The online Emerging Media master's program focuses on the creation, delivery, packaging, and publication of projects at the intersection of technology and design. Typical projects include product development, applied technical or design research publications, and client-based projects.
How Long Does It Take To Finish The Online Emerging Media Program?
The online Emerging Media master's concentration requires 33 credit hours and can be completed in one year (3 semesters) or two years (6 semesters). Matriculation always begins and ends in May. No deviation from these tracks is permitted.
What Are The Benefits Of The Online Emerging Media Master's Program?
The online Emerging Media master's program provides a flexible and convenient way to earn a degree while still meeting the demands of your busy schedule.
By earning a master's degree you can change your career, or pursue advancement in your current role. Online students are granted the same access to online resources, career services, library services, and technical support as all enrolled University of Georgia students to help ensure that you are equipped for success in every way.
Why Choose UGA Online's Emerging Media Master's Program?
As an online graduate of the University of Georgia, you become part of an extensive alumni network and a longstanding tradition of striving for excellence in every pursuit. For over two hundred years, we have been on a mission of leadership and service, and today, we are ranked #16 among the nation's top public institutions by U.S. News & World Report, with numerous online master's programs ranked in the top 10 among programs nationwide.
Accreditations
The University of Georgia is accredited by the Southern Association of Colleges and Schools Commission on Colleges (SACSCOC) to award baccalaureate, master's, specialist, and doctoral degrees. The University of Georgia also may offer credentials such as certificates and diplomas at approved degree levels. Questions about the accreditation of the University of Georgia may be directed in writing to the Southern Association of Colleges and Schools Commission on Colleges at 1866 Southern Lane, Decatur, GA 30033-4097, by calling (404) 679-4500, or by using information available on SACSCOC's website (www.sacscoc.org).
Grady College of Journalism and Mass Communication is accredited by the Accrediting Council on Education in Journalism and Mass Communications (ACEJMC).
Admissions
Admission Requirements
Admission is a collaborative process involving both Grady College and the University of Georgia's Graduate School.
Hold a bachelor's degree from an accredited college or university
Have cumulative grade point average for all previous undergraduate courses as being 3.0 or above on the 4-point scale
Provide three letters of recommendation from people who know you professionally or as a scholar
Application Checklist
Application – Submit online to the Graduate School Admissions. Application fee: $75 Domestic/$100 International (waived for US veterans).
Select Campus – Online
Select Intended Program – MA, Journalism and Mass Communication (College of Journ-Mass Comm) Non-Thesis [MA_JRMC_NT_O]
Select Area of Emphasis – Emerging Media
Select Intended Term – The Emerging Media Masters must be started in the Summer term. Fall and Spring start terms are not permitted.
Submit the Supplemental Application – Grady Supplemental Application. Submit via email to Anne Hurne: anne.hurne@uga.edu by March 1
Entrance Exam Scores – No GRE or MAT required. International applicants must submit TOEFL or IELTS scores.
Résumé or Curriculum Vita – Upload to the Graduate School application.
Statement of Purpose – In two pages or less, please illustrate your specific interest in Emerging Media, and outline how Emerging Media directly relates to your professional goals. Demonstrate your understanding of the Emerging Media concentration.
Transcripts – Submit unofficial transcripts from all institutions attended as part of the Graduate School application. Send official transcripts after you are offered admission.
Letters of Recommendation – Submit three letters of recommendation online to graduate school. Letters should be from individuals who can evaluate your scholarly ability and potential for success in a graduate program. The application will prompt your recommenders to submit their letters electronically.
Application Deadlines
Domestic Applications
Summer: March 1 – Priority applications are due
Late applications will be reviewed on a space-available basis until May 1. Be aware that all students entering the Emerging Media Masters begin their coursework in the Summer semester; Fall or Spring admission is not permitted.
International Applications
Summer: March 1
International Applicants – must submit TOEFL or IELTS scores.
Cost
Tuition & Fees
Tuition rates and student fees can change each year.
Based on 2022 credit hour cost, a person completing this program at the recommended pace would have paid $20,757 in tuition.
Please use the Estimated Cost Calculator on the Bursar's Office website to calculate one academic (Fall/Spring) year's current tuition.
This program is an E-Rate program, so choose "yes" for the E-Rate line item within the calculator.
Online students pay the following fees: Connect UGA, Green, and Technology. The total for those fees in the fall semester of 2022 was $147 for students enrolled in exclusively online courses.
Other Online Master's in Journalism & Mass Communication, Emerging Media Degree Costs
Additional costs may include:
Textbooks
Exam proctoring fees
Technology upgrades
Specific software purchase decisions will be mentored by instructors, but typically these would include Adobe Creative Suite.
The complete cost of attendance can be found at https://osfa.uga.edu/costs/.
Financial Aid
Visit the Office of Student Financial Aid for information about financial assistance.
Corporate Assistance
Consult your employer about the availability of tuition reimbursement or tuition assistance programs.
Military Assistance
Active duty military, veterans, and military families should visit Veterans Educational Benefits to take full advantage of available financial assistance and educational benefits.
University System of Georgia Tuition Assistance Program (TAP)
The purpose of TAP is to foster the professional growth and development of eligible employees. For more information, see Tuition Assistance (refer to the Distance Learning section). 
Technology Requirements
Computer with current operating system (Windows, Mac, or Linux). Additional peripherals such as webcam, headphones, and microphone are required.
High-speed internet access.
If accepted to pursue the online track of Emerging Media (EM), you are responsible for having administrative access to an Apple computer with the latest Mac operating system for the duration of your EM journey.
Be sure your computer has extra storage to download files and additional software, including Adobe Creative Cloud. Additional software will be announced in each course and will include additional costs. You will also need, of course, fast and reliable Internet access.
Curriculum
Program Structure
Required Courses (11 courses, 33 credit hours)
NMIX 6010E- Web Development
NMIX 6011E-New Media Design
NMIX 6012E-Emerging Media Industries
JRMC 7013E-Emerging Media Strategy
JRMC 7010E-Digital Media Design & Aesthetics
JRMC 7011E-Project Management and Innovation
NMIX 6030E-Native App Development
NMIX 6020E-Advanced Web Development
JRMC 7012E-Digital Media Storytelling
JRMC 7014E-Emerging Media Workshop
JRMC 7015E-Emerging Media Capstone
Faculty
News & Events
February 2, 2022
The Master of Arts in Journalism & Mass Communication, Emerging Media concentration focuses on interactive digital media and encompasses design, development, digital storytelling, product ideation, project management, and emerging technologies. Grady College's Emerging Media master's concentration is designed for individuals who wish to understand how to strategically manage…
October 5, 2021
Grant Utter graduated from the University of Georgia in 2017 with a degree in Entertainment and Media Studies and a New Media Certificate. He started working on some short films around Atlanta and then got a full-time job as a Product Information Specialist at OMI Halyard in Alpharetta. Since…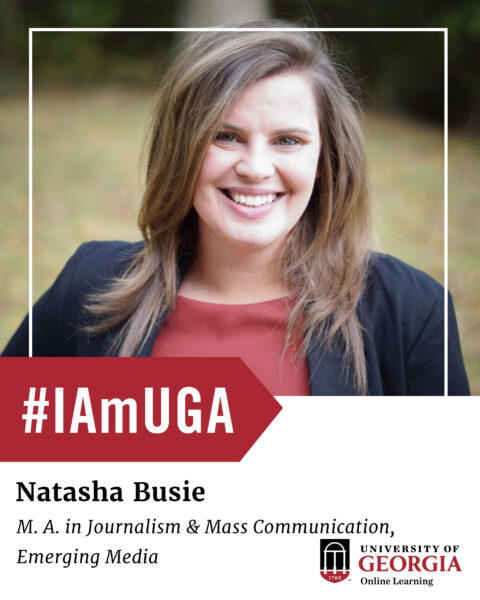 August 26, 2021
As a marketing professional, Natasha Busie wanted to deepen her understanding of emerging media and how it affects people's decision-making. She had worked as the Marketing Director for the Calhoun Chick-fil-A before becoming the Marketing Communication Manager for the SHOWA Group which is a company that makes personal protective…
Contact Information
Contact us using the request for information form or call 706-452-7947.
Testimonials
The New Media Institute is amazing. The Emerging Media Masters program not only provided me with an array of versatile tools, it was also a catalyst for discovering my true passions and what I want to do post-grad. Taking Emuel's production courses and SwiftUI course got me super into programming. So much that I'm actually in the process of pursuing a second master's degree in Computer Science.

Olivia Carino, 2021 Alumni, Computer Science student
The New Media Institute has the absolute best faculty, they really care about and listen to feedback from the students. I know the Emerging Media Masters will only continue to grow! Thank you for a great experience!

Patricia Irizarry, Jr. UX Designer, Publicis Sapient, 2021 Alumni
Contact Information
Contact us using the request for information form or call 706-452-7947.
Request Information