10 Women of UGA Online to Honor on International Woman's Day
March 8, 2021, marked International Woman's Day–a day to honor and remember trailblazing women. The University of Georgia has a number of accomplished faculty who have created valuable research, innovating teaching methods and more.
Below is a list of some of the successful women in the UGA Online faculty.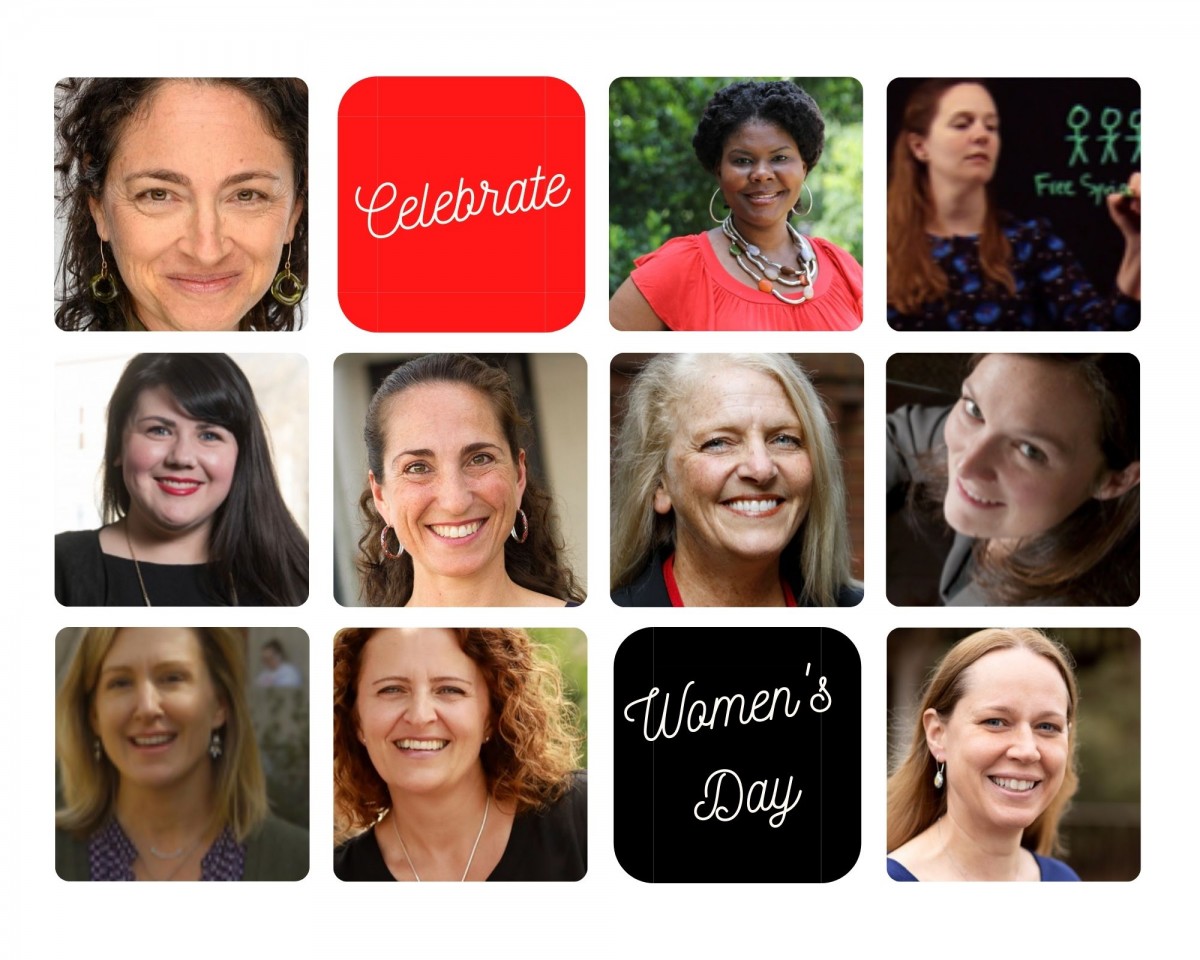 Melisa "Misha" Cahnmann-Taylor
Cahnmann-Taylor is a professor in the Mary Frances Early College of Education's department of language and literacy education and has been named a Fulbright U.S. Scholar Alumni Ambassador by the Fulbright Scholar Program.
In 2013, Melisa Cahnmann-Taylor received a Fulbright award and traveled to Oaxaca, Mexico. While there, she taught English language poetry courses at Universidad Autónoma Benito Juárez de Oaxaca using art, theatre and poetry and examined how Americans learn foreign languages. As a Fulbright alumna, she views being an ambassador as a chance to enhance the organization's mission of sending scholars abroad.
"I am the only ambassador in the arts and education," she said. "There's lots of things that keep scholars from applying, but I get to be the person who provides the tools and tricks to assist in sending scholars all around the world."
Learn more about Cahnmann-Taylor.
Caree Cotwright
Cotwright's latest study found the use of characters – think of graduate students dressed up as Cassie Carrot and Bonnie Blueberry conducting recipe tastings with kids – increased the kids' willingness to try fruits and vegetables.
"We can use characters to encourage healthy eating and make them just as fun and vibrant as what they see on TV," said Cotwright, an assistant professor in the University of Georgia College of Family and Consumer Sciences. "It's a really promising way to get kids engaged and to establish healthy habits early."
Since food preferences and habits are established early in life, Cotwright's research focuses on introducing healthy fruits and vegetables to kids who are most at-risk for developing early childhood obesity. Cotright also teaches in the online M.S. in Foods and Nutrition, Community Nutrition program.
Learn more about Cotwright.
Grace Bagwell Adams
The community-wide Athens Wellbeing Project is partnering with local organizations to enhance the outcomes achieved by local institutions and organizations through collecting and sharing open-access data that is representative of Athens-Clarke County's population.
Adams, who teaches in UGA's College of Public Health and in the online Graduate Certificate in Public Health, said the data is used to target the city and citizens' needs as a whole.
"It's really aimed at getting good quality representative data of all kinds of households in our community to help inform the work that organizations are doing," Bagwell Adams said.
Learn more about Adams.
Kerstin Emerson
Kerstin Emerson, a clinical associate professor of gerontology at UGA's Institute of Gerontology and a new online Graduate Certificate in Gerontology, said she's concerned that older adults could be experiencing more exacerbated feelings of loneliness due to social distancing.
The Centers for Disease Control and Prevention released recommendations on March 5 encouraging older adults to stay home to protect themselves from COVID-19 exposure. By the time participants took the survey, they had been socially distancing for an average of 17 days.
She was especially interested in how the responses differed among two subsets of survey participants – those aged 60 to 70 and adults 71 and older.
"Part of the reason I did that was because I wanted to see if there was a difference by age groups, among the 'younger old' and 'older old,' who may have different work responsibilities and living situations," said Emerson.
Learn more about Emerson.
Emma Laing
Not long after the coverage of the COVID-19 pandemic hit the news, phrases like "quarantine-15" and "fattening the curve" began popping up on social media.
A reference to weight gained during stay-at-home orders, a quick hashtag search of these phrases turns up thousands of posts, many of them "before and after" memes and at-home workouts designed to help stem weight gain.
The content, most of it created for lighthearted laughs, highlights the country's fixation on diet culture, which can be harmful to many but particularly for marginalized identities, said Emma Laing, clinical associate professor and director of dietetics in the University of Georgia College of Family and Consumer Sciences. Laing also teaches in the online M.S. in Foods and Nutrition, Community Nutrition program.
"Poking fun about gaining weight perpetuates the idea that thinner bodies are more disciplined, healthier, and more worthy of attention, and this is simply untrue," Laing said. "The thin ideal standards of beauty are unrealistic for people who are genetically larger."
Learn more about Laing.
Laura Bierema
Laura Bierema, a professor in the Mary Frances Early College of Education's department of lifelong education, administration, and policy, will serve as the incoming president of the Academy of Human Resource Development (AHRD). Bierema also teaches in the online M.Ed. In Learning, Leadership, and Organizational Development program.
The scholarly organization was developed to influence and encourage the creation and systematic study of theories, processes, and techniques that advance human resource development. Because AHRD celebrated its 25th anniversary in 2018, a long-term focus of Bierema's presidency is to ensure the organization remains healthy when it celebrates its 50th anniversary.
"Our members are academics, students, and practitioners interested in research to advance leadership, adult learning and development, change, and organizational development," Bierema said. "My short-term focus as president is in four areas: ensuring member value, monetizing assets, fundraising, and fostering an inclusive scholarly community."
Learn more about Bierema.
Kristina Jaskyte Bahr
Kristina Jaskyte Bahr, associate professor for UGA's Nonprofit Management and Leadership online program, was recently presented with UGA's 2020 Service-Learning Excellence Award.
The Service-Learning Excellence Award consists of two categories: Service-Learning Teaching Excellence and Service-Learning Research Excellence. Bahr is one of two professors to earn the award in the Service-Learning Teaching Excellence category, and since 2011, 27 faculty have received awards over both categories. Service-Learning Excellence Awards recognize faculty for innovative service-learning course design as well as scholarship that stems from academic service-learning work.
"My job as a researcher and a teacher is to challenge the system and explore ways that we can kickstart innovation in these organizations. Bringing new, fresh ideas and a spark of creativity into associations, that's what drives me each day," Bahr states.
Learn more about Bahr.
Trina Cyterski
Faculty at UGA and around the world have transitioned to online teaching in response to the COVID-19 outbreak. UGA faculty experienced in online teaching have responded by making their fully-captioned instructional videos publicly available as open educational resources (OERs) to help faculty make the shift to online instruction.
UGA lecturer in the Department of Psychology's behavioral and brain sciences program, Trina Cyterski, has joined other UGA faculty in making online course media publicly available to help other faculty. Cyterski had never taught an online course before becoming a Faculty Online Learning Fellow. With the assistance of her instructional designer, Stephen Bridges, her course, Intro to Psychology Resources, launched in the summer of 2019.
Cyterski created eight online course videos, which consist of lecture content and demonstrations of cognitive psychology principles.
Learn more about Cyterski.
Leah Carmichael
UGA lecturer in the Department of International Affairs and UGA Online faculty fellow, Leah Carmichael, has joined other UGA faculty in making online course media publically available to help other faculty. Carmichael has created 15 online course videos, each explaining a different aspect of international relations such as the laws of war, theoretical paradigms, and how the economy should operate.
Faculty can browse the catalog and link to the videos that they feel will help them efficiently teach online and keep their students engaged.
As UGA has switched to online for the remainder of the spring semester, access to Carmichaels' successful course material will provide additional faculty to faculty support to help ease the transition.
Learn more about Carmichael.
Michelle vanDellen
UGA associate professor in the Department of Psychology, Michelle vanDellen has joined her colleagues in making online course media available to other faculty. VanDellen has made 28 online course videos available, each explaining a discrete statistical concept or method.
Faculty can browse the catalog and choose to link to the videos that will help them most efficiently teach online in a way that is best suited to keep their students engaged.
Learn more about vanDellen.